Around Bach a cappella
A concert of a cappella vocal works by Johann Sebastian Bach, some of his relatives and contemporaries
Monday 26 Sep 2011 - 6:30pm - North Kohala Library - Kapa'au

Saturday 1 Oct 2011 - 6:00pm - HPA Davies Memorial Chapel - Waimea (map)


This concert is centered on one of Johann Sebastian Bach's greatest achievements, the motet, "Jesu, meine Freude". Previously performed by the Consort as a partial piece, it will be sung in its entirety for this special program entitled "Around Bach a cappella".

Music was a family affair for the Bachs, and many of JSB's relatives were also fine composers and performers. Four of them will be featured in this program, which includes an excerpt of a six-part motet by his grandfather's brother, Johannes.

"Jesu, meine Freude" is a chorale actually composed by Johann Crueger in 1653. Johann Michael's eight-part motet, based on this chorale, and Johann Christoph's five-part motet will showcase the pre-JSB era. They were both sons of JSB's great uncle, Heinrich. A Magnificat by one of JSB's many children, Carl Phillip Emmanuel, will bracket the era.

The motet, "Jesu, meine Feude" BWV 227, is one of JSB's most exquisite and profound pieces, a masterpiece of musical architectural symmetry. Though written for voices, it is often performed with instruments doubling or filling in parts, depending on the skill or availability of both singers and players. However, for this performance there will be no instruments, just voices. Comprised of eleven sections, the centerpiece is a grand five-part double fugue. A simple chorale setting, based on Crueger's melody, opens and closes the work. Bach's richly textured work is a complex piece woven into intricate trios and five-part sections, departing from the traditional four-part harmony. His skillful addition of a second soprano line helps to illustrate more fully the meaning of the underlying text: Man freed from sin and death!

Purcell's anthem written in 1685 for the Coronation of James II will be sung to commemorate the birth of Bach, as well as his talented contemporaries, Scarlatti and Handel, who were both born that same year.

There will also be a few musical surprises for you at the performances in Kapa'au, Monday, September 26 at 6:30 pm, and in Waimea on Saturday, October 1 at 6 pm.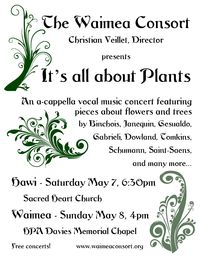 It's all about plants...
A concert of a cappella vocal works by Binchois, Costeley, Janequin, Gabrieli, Gesualdo, Schumann, St-Saens, de Lange, and many more!
7 May 2011 - 6:30pm - Hawi - Sacred Heart Church

8 May 2011 - 4pm - HPA Davies Memorial Chapel - Waimea (map)


Free concerts!
The first part of the program will be dedicated to flowers, like those received from Flora but then handed over to Phoebe (!) in an English madrigal by Wylbie. A lover will ask a candid and green flower for help in assessing his loved one's intentions in a 5-part madrigal by Gesualdo. Many flowers, like the primula veris (cowslip) celebrated by Mendelssohn for awakening spring, made it to songs, but none inspired composers more than the rose, thanks to its many symbols: from the Virgin Mary to the blood of martyrs, from love and beauty to the fragility of life... Works by Binchois, Costeley, Gabrieli or Schumann will bring them to life through wonderful harmonies and the intricate interplay of elaborate polyphonies.
A piece by Saint-Saens Les fleurs et les arbres (The flowers and the trees) will be a natural bridge to the second part of the concert, devoted to trees. Woods will be a place for solitariness in O sweet Woods, an English madrigal by Dowland, or bring shade and privacy to lovers in To the shady woods, a lively and joyful madrigal by Tomkins. In Abschied vom Wald (Departure from the forest), a wanderer, deep in the woods, is yearning for home in a very moving piece by Mendelssohn. The composer of The Planets, Gustav Holst, will be heard again in Kohala, this time with an arrangement of Fantasia on the Dargason, a seven-part octane-charged piece originally written for wind ensemble and arranged by a contemporary composer, T. Kroll, to become The Hawthorn Tree. A few pieces spread throughout the concert will add spice to the program which will be, as usual, an opportunity to marvel at the diversity of emotions a few voices can manifest, thanks to the talent of composers writing as far back as the 1400s and as recently as a couple of years ago.
While generally performing with 10 to 12 singers, the Consort is fortunate to have 15 on stage for these two concerts, bringing a new dimension to the overall performance, for the singers as well as for the audience. A program not to be missed, and worth a drive up-hill from Kona or Hilo!