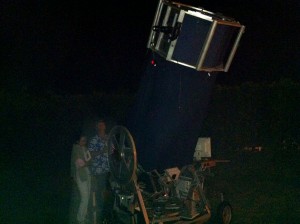 On Friday night, we had a nice gathering at the SAT observatory at Cité de l'Air. The weather was much better than three years ago: it was warm and not windy! Quite a few clouds though, but they let us look at Saturn and a few objects from the Messier catalog. Claude had pulled the 60cm out: always an impressive sight!
All the SAT members who helped for the Marquesas trip and the Moorea astronomy workshop were there, with a few more I hadn't seen since the IYA2009 visit. Was nice to rekindle with some and to share our experience of the past 12 days!
After a short night at Roland's house and a quiet morning, we went for lunch at the Marina Taïna: wonderful day, with gorgeous views on the reef and Moorea.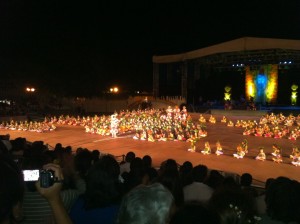 A couple of hours of sleep were much welcome, before a wonderful evening spent watching the Grand Gala of the Conservatoire on Place To'ata (Merci, Eric !)
A cheese and wine dinner with Roland and Tupuai (thanks to Shirley!) and it was time to go to the airport, say goodbye to Philippe, Claude, Roland, Tupuai, Lyvonne and Jean-Michel, and board the plane for Hawaii.
Thanks to all for a wonderful experience!