After a last breakfast at Cedric' and Kamel's house, we drove to the airport with all our bags and boxes. Solving the freight issues took some time but all went well.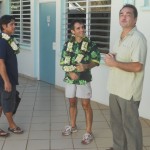 A short flight to Hiva Oa brought us safely on Hiva Oa. Benoît, who organized our activities on the Island, picked us all (people and boxes!)  in his car and we drove to Atuona. Lunch and a reconnaissance of the various places at which we will have activities, and a visit to those we will work with, made most of the afternoon.
We ended up in a little studio in which we decided to stay together instead of being spread around: it will ease transportation.
Christian was scheduled for a conference at 6pm. Eric and Philippe started a stargazing session at the Collège Ste Anne at 6:30pm. Very few people showed up at the conference, but they were interested, which made for a nice exchange. Christian came back to the stargazing field where the rest of the team was dealing with lines of students from Ste Anne and some of their professors.
The classes from Ste Anne and the public collège all worked on astronomy for the past two weeks in anticipation for our visit: It made for good discussions while watching Saturn and Omega Centauri… A few clouds passed by here and there, but never for long. A very pleasant evening ending late when a few rain drops decided to fall on the last participants.
A short dinner in our studio, and a few lines for this blog ended the day. Pictures will come tomorrow. It is nearly midnight!
A full day with classes and an evening of stargazing, for the public and the students of the collège d'Atuona… are waiting for us tomorrow