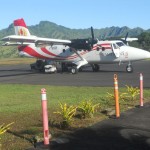 Early start to catch the Twin Otter 300 for a short flight between Hiva Oa and Ua Pou. Wonderful morning, with no wind and clear skies… The pilot regaled the passengers with a flight over the mountains on both islands, including flying between the peaks of Ua Pou, ending with a very smooth (and therefore unusual) landing.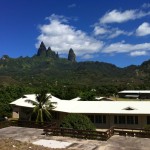 Armand and Edwige will be our hosts for our two days/nights on the island. They also own the house Benoît and Kamel rent on Nuku Hiva. It is the second time we stay in one of their houses! After a short stop to leave bags and boxes at  the house and enjoy delicious mangoes, we went for a  reconnaissance of the stargazing party locations: one for tonight at the collège for the boarders staying at school over the weekend, and one for tomorrow at the city hall (mairie) for the public and the boarders of the elementary school after a short public conference.
Mid-morning, the clouds came in … but South is clearing up. Getting ready for the evening!